NETWORK AND INNOVATION AT THE BRAZILIAN AGRICULTURAL RESEARCH CORPORATION
Resumo
Brazil is a major producer of food, fiber and renewable energy, having great importance for the world's food security. The country has substantially invested in Research, Development and Innovation (RD&I) in the last four decades and the Brazilian Agricultural Research Corporation (Embrapa) has been coordinating this effort. This study aimed to explore the association between centrality measures for research networking and the generation of innovations by Embrapa research centers and their partner institutions. The study analyzed patent applications from Embrapa between the years 1980 and 2009. The methodological techniques applied
were social network analysis, correlation and simple linear regression. Results indicate that the greater centrality in research centers networks of Embrapa were associated with higher levels of innovation. Results also evidenced the importance of networks, such as the National Agricultural Research System (SNPA, in portuguese), on generating innovation for agriculture. These findings suggest that public policies promoting agricultural innovation should be designed to strengthen collaboration among institutions and not only with individual scientists.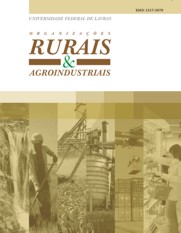 Downloads
Como Citar
PAULA, N. Q. de; BISCOLA, P. H. N.; FIGUEIREDO, J. de C.; BUNGENSTAB, D. J.; GUILHERMINO, J. de F. NETWORK AND INNOVATION AT THE BRAZILIAN AGRICULTURAL RESEARCH CORPORATION. Organizações Rurais & Agroindustriais, [S. l.], v. 19, n. 3, 2018. Disponível em: http://revista.dae.ufla.br/index.php/ora/article/view/1226. Acesso em: 10 ago. 2022.