PROCESS OF TECHNOLOGY TRANSFER FOR PUBLIC RESEARCH INSTITUTIONS: A PROPOSAL TO EMBRAPA AND THE POULTRY PRODUCTION CHAIN
NADIA SOLANGE SCHMIDT BASSI

Empresa Brasileira de pesquisa Agropecuária

Christian Luiz da Silva

Universidade Tecnológica Federal do Paraná
Palavras-chave:
Technology Transfer. Embrapa. Poultry production chain.
Resumo
The process of knowledge and technology transfer has represented a big challenge for public institutions. In these institutions, research is financed with public resources. However, several studies point to a low degree of adoption of the technologies generated by the target audience, which may result in the loss of the relevance of these institutions to the society. This paper aims to propose a model of poultry technology transfer process for Embrapa, the largest and main Brazilian agricultural research company. The methodology involved a qualitative and documentary approach along with a bibliographic research and interviews with agro-industry agents, and researchers from Embrapa and from the Agricultural Research Service. The data show that, although Embrapa develop technologies for the poultry production chain, the adoption rate of these technologies by the poultry chain is very low. It was also diagnosed that there is a gap between the institution and the various links of the chain. The proposed TT model was approved by the interviewed participants who work in the chain and also by representatives of the entities linked to this chain. This acceptance demonstrates the willingness of Embrapa to approach the poultry chain, and to look for joint solutions to existing problems.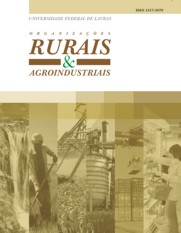 Como Citar
BASSI, N.; DA SILVA, C. PROCESS OF TECHNOLOGY TRANSFER FOR PUBLIC RESEARCH INSTITUTIONS: A PROPOSAL TO EMBRAPA AND THE POULTRY PRODUCTION CHAIN. Organizações Rurais & Agroindustriais, v. 20, n. 1, 4 jan. 2019.